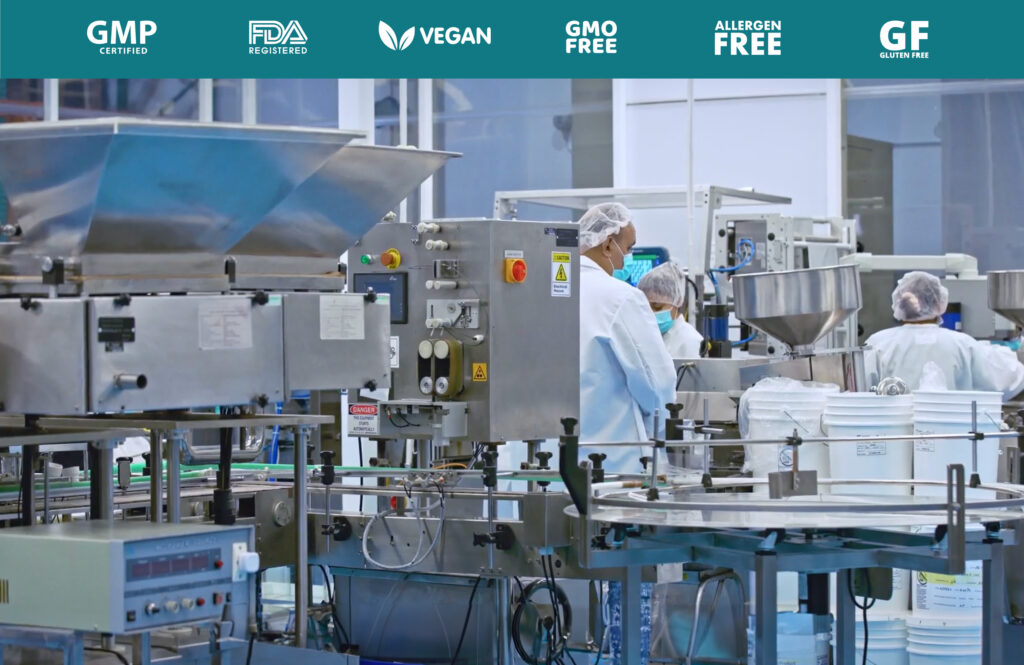 Introduction
At PharmaCenter we understand that the health and well-being of the end customer is crucial to long term success. As buyers, brand owners,supply chain managers, and private label project managers, we understand your need for high-quality products that meet the unique dietary needs and preferences of end customers. In this blog post, we will delve into the benefits of our vegan, GMO-free, allergen-free, and gluten-free  supplements, which are available in bulk or in packaged retail ready formats. We believe that by offering these choices, we can cater to a wide range of consumers and make a positive impact on their lives.
Section 1: The Benefits of Vegan Supplements
At PharmaCenter, we recognize the increasing demand for vegan products and the ethical, environmental, and health benefits associated with choosing a plant-based lifestyle. Our vegan supplements are completely free from any animal-derived ingredients, ensuring that no harm is done to animals in the production process. Furthermore, our vegan supplements provide a rich source of essential nutrients, including vitamins, minerals, and antioxidants, which are crucial for maintaining optimal health. By opting for vegan supplements, our clients can support their overall well-being while aligning with their personal values.
Moreover, choosing vegan supplements can also have positive environmental implications. Animal agriculture is a major contributor to greenhouse gas emissions and deforestation. By opting for vegan alternatives, our clients can reduce their carbon footprint and contribute to a more sustainable future. Our vegan supplements are a testament to our commitment to both individual health and the well-being of our planet.
Lastly, our vegan supplements are suitable for individuals with lactose intolerance or dairy allergies. By eliminating animal-derived ingredients, we ensure that our products are accessible to a wider audience, allowing individuals with dietary restrictions to benefit from our high-quality supplements. This inclusivity sets us apart and underscores our dedication to providing products that cater to diverse needs.
Section 2: The Importance of GMO-Free, Allergen-Free, and Gluten-Free 
At PharmaCenter, we understand that many individuals have specific dietary requirements or sensitivities that restrict their consumption of certain ingredients. That's why we offer GMO-free, allergen-free, and gluten-free supplements, ensuring that our products are safe and suitable for a variety of dietary needs.
GMOs, or genetically modified organisms, have raised concerns in recent years due to potential health and environmental risks. By providing GMO-free supplements, we offer peace of mind to our clients, assuring them that our products are free from genetically modified ingredients and are produced using natural methods.
Allergies can have a significant impact on an individual's health and well-being. By offering allergen-free certified supplements, we eliminate common allergens such as nuts, soy, and wheat, allowing individuals with allergies to enjoy our products without fear of adverse reactions. Our commitment to allergen-free certifications ensures that our clients can trust the safety and quality of our supplements.
Gluten intolerance or celiac disease affects millions of individuals worldwide. By providing gluten-free supplements, we cater to this specific dietary need, allowing individuals with gluten sensitivities to enjoy our products without compromising their health. Our gluten-free products are free from any traces of gluten, providing a worry-free option for those with gluten-related disorders.
Conclusion
At PharmaCenter, we strive to provide the highest quality supplements that cater to the unique dietary needs and preferences of our clients. Our vegan, GMO-free, allergen-free, and gluten-free supplements offer a comprehensive solution for individuals seeking safe, effective, and convenient supplementation. By prioritizing the health and well-being of the end customers, we aim to make a positive impact on their lives and contribute to a healthier, more holistic future.