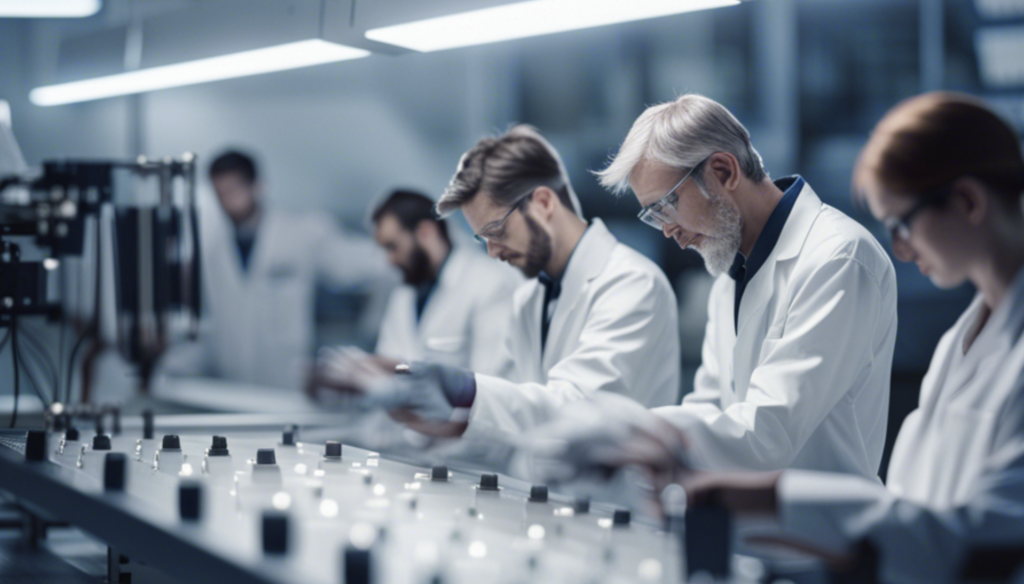 At PharmaCenter, we understand the importance of providing effective and convenient solutions for companies that serve customers who are seeking to improve their health and well-being. Our team of experts is dedicated to developing products that are not only safe and reliable, but also enjoyable to consume.

In this blog post, we will delve into the research and development efforts behind each category of products we offer, highlighting the meticulous process we follow to ensure the highest standards of quality.
So, let's dive into the fascinating world of research and development at PharmaCenter and discover how we bring our health and wellness products to life.
Gummies
Gummies are a popular choice for individuals of all ages who want to incorporate supplements into their daily routine in a fun and tasty way. Our research and development team at PharmaCenter invests significant time and resources in perfecting our gummy formulations.
We begin by carefully selecting high-quality ingredients that not only provide the desired health benefits but also deliver a delicious flavor. Our team of scientists and flavor experts work together to create unique and appealing gummy flavors that will make taking your daily supplements an enjoyable experience.
Once the formulation is finalized, we conduct extensive stability testing to ensure the gummies maintain their shape, texture, and flavor throughout their shelf life. We understand the importance of consistency, and our rigorous testing procedures guarantee that every gummy you consume meets our stringent quality standards.
Softgels
Softgels offer a convenient and easy-to-swallow alternative for individuals who prefer a different format for their supplements. At PharmaCenter, we take pride in our softgel manufacturing capabilities, which are backed by extensive research and development efforts.
Our team of formulators meticulously analyzes each ingredient to determine the optimal dosage and encapsulation method for maximum efficacy. We understand that absorption and bioavailability are key factors in the effectiveness of softgel supplements, and we employ cutting-edge technologies to ensure optimal nutrient delivery.
Furthermore, our research extends to the selection of suitable excipients and coatings to enhance the stability and appearance of the softgels. We strive to create softgels that not only provides the desired health benefits but also looks and feels premium, representing the high-quality standards we uphold at PharmaCenter.
Capsules and Tablets
For those who prefer a more traditional approach to supplement consumption, our capsule and tablet offerings are designed to meet their needs. Our research and development team at PharmaCenter works tirelessly to develop capsules and tablets that are easy to swallow, yet highly effective.
We carefully select the most appropriate activities, excipients and binders to ensure the stability and integrity of the capsules and tablets. We rigorously test the disintegration and dissolution properties of the formulations to guarantee optimal absorption and bioavailability of the nutrients.
Additionally, we understand the importance of customization in the health and wellness industry. At PharmaCenter, we offer the flexibility to create custom formulations for capsules and tablets, allowing our clients to cater to specific consumer preferences and target niche markets. Our research and development team collaborates closely with our clients to understand their vision and develop unique formulations that align with their brand and objectives.
Why Choose Pharmacenter
At PharmaCenter, our commitment to research and development is at the core of everything we do. We believe that by investing in scientific innovation and rigorous testing, we can create health and wellness products that truly make a difference in people's lives.
Whether you're looking for gummies, softgels, capsules, or tablets, you can trust PharmaCenter to deliver products of the highest quality. Our dedication to excellence extends from the formulation stage to the final packaging, ensuring that every product that leaves our facility meets our rigorous standards.
Experience the PharmaCenter difference and discover the power of our research and development efforts in enhancing your health and well-being. Choose us as your partner for all your health and wellness product needs, and together, let's make a positive impact on the world.