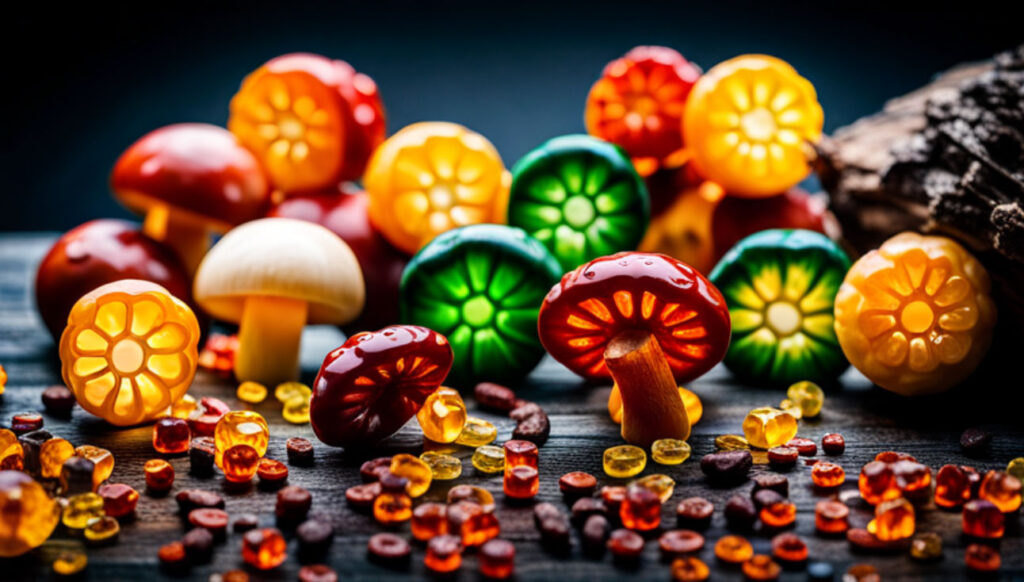 The Magic of Mushroom Gummies
Imagine a market flooded with products claiming to offer countless health benefits. Amidst this sea of supplements, your brand stands out with a unique and truly effective product: Mushroom Gummies. These innovative gummies are packed with the natural goodness of mushrooms, offering customers a convenient and delicious way to improve their health and wellness.
Thanks to the growing body of research supporting the health benefits of mushrooms, these gummies are gaining popularity among health-conscious consumers. From improving cognitive function to boosting immunity, the potential applications of mushroom gummies are vast, making them an attractive addition to any brand's product lineup.
As a brand owner looking to capitalize on this trend and create a successful mushroom gummy offering, you need the right partner to help you bring your vision to life. That's where PharmaCenter comes in. With years of experience in the industry and a deep understanding of the mushroom gummy market, we can help you create a standout product that customers will love.
Why Choose PharmaCenter as Your Mushroom Gummy Manufacturer
When it comes to choosing a manufacturing partner, you need a company that can deliver on quality, expertise, and support. At PharmaCenter, we pride ourselves on being that partner. Our commitment to excellence ensures that your mushroom gummies will be produced to the highest standards, giving your brand the edge it needs to succeed in a competitive market.
Our team of experts has extensive knowledge of the various mushroom strains and their unique properties, allowing us to help you create a perfectly tailored product that meets the needs of your target audience. With our guidance, you can select the ideal combination of mushrooms to create a potent and effective gummy that delivers real results.
PharmaCenter also offers end-to-end support, from product formulation to packaging and labeling. We understand that the success of your brand hinges on more than just the quality of your product. That's why we work closely with you to develop eye-catching packaging and labels that reflect your brand's identity and resonate with your customers, ensuring that your mushroom gummies stand out on store shelves and online marketplaces.
Creating a Winning Mushroom Gummy Formula
Developing a mushroom gummy formula that delivers both on taste and efficacy is no easy feat, but with PharmaCenter's expertise, you can rest assured that your product will be a hit with customers. We work with you to develop a customized formula that leverages the natural health benefits of mushrooms while appealing to consumers' taste buds.
Our team stays up-to-date on the latest research and trends in the mushroom world, ensuring that your formula incorporates the most cutting-edge ingredients and techniques. We can also help you create a vegan, non-GMO, and allergen-free gummy, catering to the growing demand for clean-label products and capturing a wider audience.
With our state-of-the-art manufacturing facilities, PharmaCenter maintains strict quality control measures throughout the production process. This ensures that your mushroom gummies are produced to the highest standards, giving your customers a product they can trust and rely on for their health and wellness needs.
Launching Your Mushroom Gummy Brand with Confidence
As you prepare to launch your mushroom gummy brand, you need a partner who can guide you through the complexities of the industry and set you up for success. PharmaCenter offers comprehensive support to ensure your product launch goes smoothly and your brand gains traction in the market.
From navigating regulatory requirements and obtaining necessary certifications to developing a strategic marketing plan, our team is here to help you make informed decisions and execute your vision. With our support, you can bring your mushroom gummy brand to life with confidence, knowing that you have a trusted partner by your side every step of the way.
In an increasingly competitive market, it's essential to differentiate your brand and offer customers a product that truly stands out. By partnering with PharmaCenter, you can do just that. Our expertise, dedication, and commitment to excellence make us the ideal partner for brand owners looking to launch a successful mushroom gummy offering. Are you ready to elevate your brand and tap into the power of mushroom gummies? Contact us today to get started.